Reliable Car Wreckers Auckland Services
If you're looking for reliable and professional car wreckers in Auckland, look no further than our team at National Car Parts (NCP). Our experienced Auckland car wrecking team are here to help you get the most money for your unwanted or damaged vehicle, while also providing a hassle-free and environmentally-friendly solution for disposing of your car.
Here's How Car Wrecker Auckland Works
With three easy steps, you can bid farewell to your worries and have cash in your hands.
All you need to do is
Contact Car Wreckers Auckland for a reliable, instant cash, no-obligation quote for your vehicle.
Set up a time and place for us to meet, greet and purchase your vehicle.
Finally, when you receive the cash in your hands, our car wrecking Auckland removal team will haul away your vehicle quickly and easily.
National Car Parts (NCP) is a top-performing vehicle wrecker and remover in Auckland. They have a highly skilled team and 11 trucks available daily in Auckland, making them the most speedy and convenient option.
Learn more about how it works.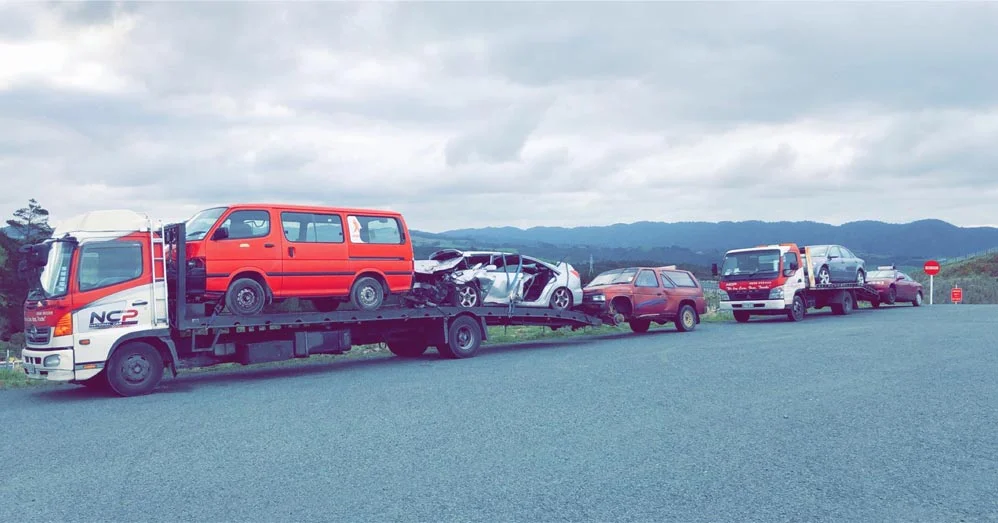 Experienced and Knowledgeable Car Wrecking Staff
With over ten years of experience in the auto wrecking industry, we have built a reputation as one of the leading auto wreckers in Auckland. We pride ourselves on offering a range of services to meet the needs of our customers, including cash for cars Auckland, cash for trucks, scrap car removal service and used car parts sales.
Fair and Competitive Prices
One of the key benefits of working with our team is our commitment to providing fair and competitive prices for your broken vehicle. We understand that selling a car can be a stressful and time-consuming process, which is why we aim to make it as easy and straightforward as possible. Our wreckers Auckland team will provide you with a free quote based on the make, model, and condition of your car, and we guarantee that we will offer you the best possible price in Auckland.
Hassle-Free Car Removal Services in Auckland
In addition to our cash for cars Auckland service, we also offer a range of other options for disposing of your unwanted vehicle. If your car is no longer in working condition, we can provide a free car removal service to take it off your hands and offer you instant cash.
This means you don't have to worry about the cost and inconvenience of towing your scrap car to a wrecking yard. Our team will come to you at a time that suits you, and we will remove your car quickly and safely.
High-Quality Used Auto Parts
If you're looking for high-quality used car parts for your vehicle, our team can also help. We have a wide range of spare parts available for most makes and models and offer them at competitive prices. Whether you need a replacement engine, transmission, or other component, we can help you find what you need.
Environmentally-Friendly Car Wrecking Solution
At National Car Parts (NCP), we are committed to providing a safe and environmentally-friendly solution for disposing of your car. We follow strict guidelines for dismantling and wrecking services, and we ensure that all hazardous materials are disposed of responsibly. This means that you can feel good about your decision to work with us, knowing that you are doing your part to protect the environment.
Car Wrecking Auckland
Whether your vehicle is old, broken, junk or damaged, we can help. Our team of experienced professionals uses the latest techniques and equipment to ensure your car is wrecked safely and responsibly everywhere from West Auckland to East Auckland and North Auckland to South Auckland.
With our affordable prices for cars in Auckland and quality services, you can trust us to provide you with the best car wrecking service in Auckland. Contact us today to learn more about our services and to schedule an appointment.
Get in touch today.
In summary, if you're looking for reliable and professional 'car wreckers near me', look no further than your local National Car Parts (NCP). We offer a range of services to meet excellent customer service needs, including cash for cars, car removal, and auto parts sales.
Our experienced and knowledgeable staff are here to help you get the most money for your unwanted, dead or alive and damaged vehicle while also providing a hassle-free and environmentally-friendly solution for disposing of your car. Contact our car collection team today to learn how we can help you.
It is easy to get help from the car wreckers Auckland team. You can call 0800884455 and a member of the team will start working with you. Or you can click on 'Get a Quote' and someone will come to your house to inspect your car. We buy all kinds of cars even if they are not in good condition and we will pay up to $15,000 in cash right away. Don't wait! Call us today for more information.
Read more:
Got a question? We have the answers…
How much do Car Wreckers Auckland pay?
Car Wreckers Auckland can pay from $300 up to $15,000.
What happens to the ownership of my vehicle?
When you scrap, wreck or sell your vehicle to Car wreckers in Auckland. The pickup driver will either give you the number plates back for registration cancellation. In some cases, if the vehicle is purchased with the number plates. The ownership will be transferred straight away before the vehicle is collected.
What type of vehicles can I sell to Car Wreckers Auckland?
You can sell or scrap any car for cash. No matter the age, make, model or type. Car Wreckers Auckland can buy your vehicle no matter if it is a small car or a big truck!
What if my vehicle has no WOF or deregistered?
Don't worry if your car doesn't have a WOF registration, or if it has been cancelled. You can still sell your unwanted car to wreckers.
Does my car have to work correctly?
No, your vehicle doesn't need to work and this will not affect your cash quote.