Get Cash For Cars In Pukekohe, Auckland, Nz | National Car Parts & Car Removal Pukekohe
Getting rid of an unwanted vehicle has never been any easier. Are you located in Pukekohe? We offer Instant cash for cars & scrap car removal in Pukekohe, NZ. With National Car Parts scrap yard, you can quickly sell your car for wrecking and also get the best price. Whether you are looking for European car wreckers or Japanese car wreckers, our auto wreckers yard in Pukekohe, NZ buys all makes and also models for used auto parts & scrap. 
We pay money for your broken wrecked vehicles and also offer quick car removals anywhere in Pukekohe, Auckland, NZ. 
Our Second-hand auto parts store specializes in Toyota, Nissan, Holden, Ford, Mazda, Subaru, Mercedes, BMW, Volkswagon, and many more, offering the best value to wreck & recycle the year 2005 and above models for spare parts. 
National Car Parts wrecking yard offers simple solutions for scrapping old junk vehicles for scrap metal and also auto parts. For all questions or to book a free vehicle removal service, call the team on 0800 88 44 55. You can also email us directly by completing the quick get an offer form. Read more about 'car wreckers Pukekohe' below the image.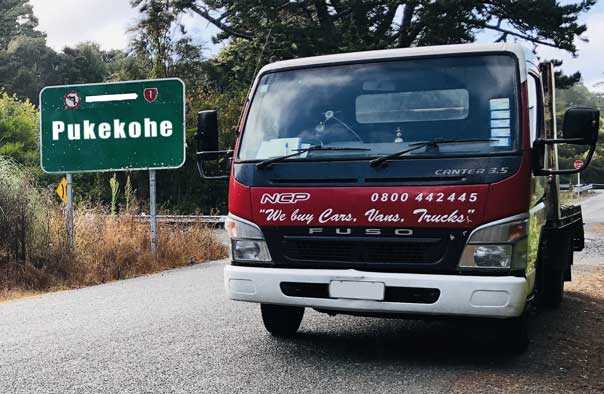 Free Scrap Car & End Of Life Vehicles Collection In Pukekohe
We offer quick & instant scrap car or truck collection services throughout Pukekohe, NZ. Get a fair price for your old, scrap, damaged, salvage, smashed, broken, unwanted end-of-life vehicles with a free collection service. With National Car Parts & Car Removals, you surely get the best value for your car, truck, vans, utes & SUVs. 
Here is what you can get with our Car wrecking services:
THE BEST PRICES FOR JUNK CARS & TRUCKS

FREE SCRAP CAR & TRUCK COLLECTIONS
BETTER PRICES FOR TOYOTA & NISSAN WRECKS
INSTANT PAYMENTS FOR WRECK COLLECTIONS
WRECKING SOLUTIONS FOR ALL MAKES & MODELS
Traveling throughout the greater Auckland area, National Car Wreckers will surely come to your property and provide a free car removal service. You can count on our team to show up to the job on time, and also remove the vehicle promptly from your Pukekohe property. Find out more info about free car removal & auto wreckers services in Pukekohe, NZ here.
Get Up To $15,000 For All Vehicle Makes And Models | Used Car Parts Yard
Whether your car is rusting away, wrecked, or hasn't been used in years – we'll pay instant cash for it!. We buy all makes & models and also depending on the year & condition of the vehicle we pay cash up to $15000. Read more information on auto wreckers & cash for cars in Pukekohe, NZ here.
Sell Your Car With National Car Parts Limited
National Car Parts & Car Removal in Pukekohe, NZ are your local Auto Recyclers, Auto Wreckers, leading auto collection & scrap vehicle body recyclers. We have a team of Experienced & Highly-qualified dismantlers who responsibly recycle all usable spare parts and materials. 
If you currently own a broken-down scrap vehicle you can safely dispose of it or sell it for parts and make some quick money.
We sell a large range of Toyota Car Parts hence we can offer you the best value for your Toyota wrecks. Our stock also includes parts from other car brands such as:
BMW
Mazda
Hyundai
Audi
Ford
Holden
Kia
Mercedes Benz
Suzuki
Volkswagen
Honda
Hilux
Trusted Auto Wreckers In Pukekohe, Nz | Light Commercial Vehicle And Truck Wreckers Pukekohe
From 4WDs and utes to trucks and also light commercial vehicles, the team here at NCP wants your vehicle! We offer free cash quotes for all vehicle types by phone or email. Get in touch with us today to see what your vehicle is worth.
Eco-friendly Car Wreckers Pukekohe | Cash For Cars In Pukekohe, Nz
Here at NCP, we care for the beautiful New Zealand environment and also practice environmental practices wherever possible. All vehicle parts are recycled, and those that can't be are carefully disposed of.
Car Removals Service Throughout Auckland | Best Auto Wreckers Pukekohe, Nz
Our team will come to your property throughout the greater Auckland areas, remove your car for free, and pay you instant cash in the hand. Take a look below at the areas we regularly service:
Read more about our Car Wreckers, Cash For Cars, Car Removal.